Pick Up and Drop Off Instructions
Drop-Off at GHWH
    
How early may I arrive at school for drop-off?
Unless you student is a part of the early morning Solus Ortis Club (see below for details) we ask that you not arrive at campus prior to 7:25 a.m.  This allows our teachers and staff the opportunity to park and enter the building prior to our drop-off process.
When do I drop-off my student(s) and where do I drop them off?
Drop Off begins at 7:30 a.m.  Students are not allowed to leave the vehicle until a staff member is present.
I have to get to an early meeting at work, can I drop my student off prior to 7:30 a.m.?
Early drop-offs whereby the students are left prior to 7:30 a.m. are not permitted.  Please make other arrangements.
What is Solus Ortis?
Solus Ortis is a morning fee-based club.  Registration is required.  Currently the club is closed to new applicants, but if your family has a need, please contact Jennifer Cape, our office manager, to inquire as to when new spots might open up?
When does drop-off end?
Faculty assisted drop-off concludes at 8:00 a.m.  Students arriving after this time will need to be walked in to the administrative office by their parents.  Parents, you will need to park your vehicle and walk your student in.
Thumbs-Up/Thumbs-Down
When the captain points at you and alternates their hand both Thumbs-Up/Thumbs-Down, they are asking if you, as the driver, are ready to leave or not.  If you still have students in the vehicle, you will indicate Thumbs-Down.  If your students have left your vehicle, they are walking into the school, and you are ready to leave, then you will indicate Thumbs-Up.
How do I know when to leave?
Please do not leave the drop-off area until you are waved along by the parking captain (This is the person at the beginning of the line of vehicles).  It is imperative that drivers acknowledge, and obey the staff who are safely caring for you, your students and all the other vehicles around you.
Pick-Up at GHWH
Objective 1: To keep students, staff, parent volunteers and vehicles safe
Objective 2: To move students to the vehicles efficiently
Objective 3: To facilitate vehicles leaving efficiently
With over 600 students from nearly 450 families being picked up, we ask that you adhere to the Wave schedule for pick-up.
What is this "Wave" thing?
If all vehicles attempted to pick-up their students at the same time, 400 plus vehicles would end up in a long line waiting…and waiting…
Rather than waiting in our parking lot, we request that you leave your home, or work later than you would for a 3:30 p.m. pickup time.  The first "Wave" of pick-up will be our families with Kinder students.  The second wave will be those families with 1st & 2nd students, and so on (see below for times).
We know that not everyone can adhere to the schedule…but we ask that you do make every effort.  We will be fine tuning our pick-up process throughout the year to make it more efficient.  Please be patient.  Our process will only get faster as the year goes on.  The training process involves not only our faculty, but the training of our students and also you, our parents.
What time should I arrive at the school?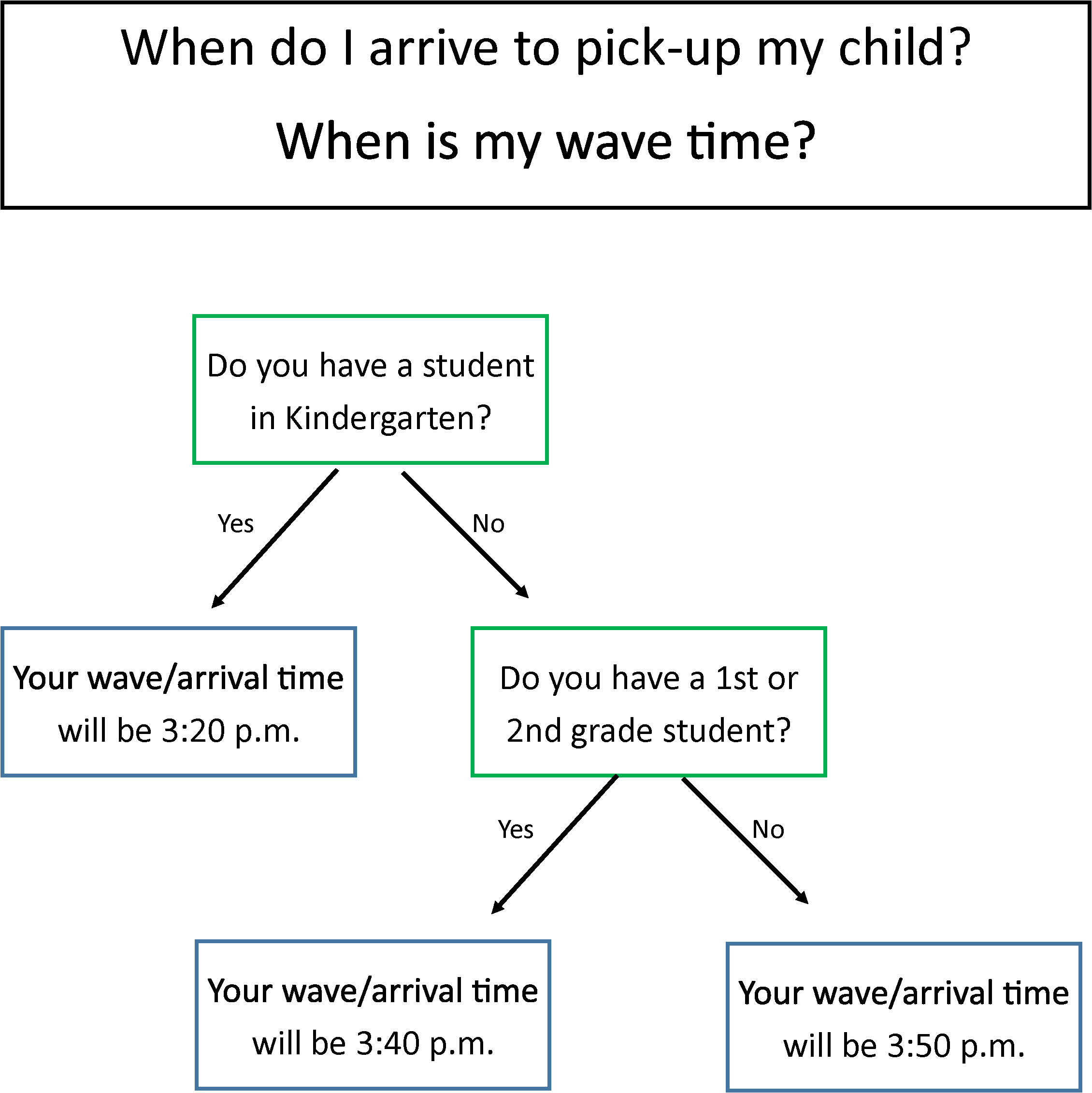 Wave Times:
3:20 pm         Kinder + Lower School Siblings
3:40 pm         Gr. 1/2 + Lower School Siblings
3:50 pm         Gr. 3-5 + Lower School Siblings
PLEASE NOTE: the times above are when we ask that you arrive on Ingram road.
Do I have to arrive during my wave time, or can I come later?
Please, by all means, arrive later!  But not after 4:10 p.m.  Students still at school after 4:10 p.m. will be moved to the care of our after school program.  There is a fee for this extended service.
What will my student be doing while they wait?
We use an application called CURB to inform the teachers that you have arrived and are ready to pick-up your student.  This allows the students to stay in their class while they await your arrival.  As the year goes on, many students will be able to complete some homework while they wait to be picked-up.
What time does school dismiss?
Dismissal is 3:30 p.m.  This means that the first students will begin arriving at their vehicles shortly after that time, by a few minutes.
Why can't I get my student when I arrive?
While your wave may allow you entrance to our parking lot at 3:20 p.m. this does not mean your students will be dismissed at that time to your care as they are still in class.  State law requires this.
My student has a Doctor's appointment right after school, what do I do?
If you need to withdraw your student prior to the end of the day, we ask that you do so no later than 45 minutes before the end of the school day.